Payment Problem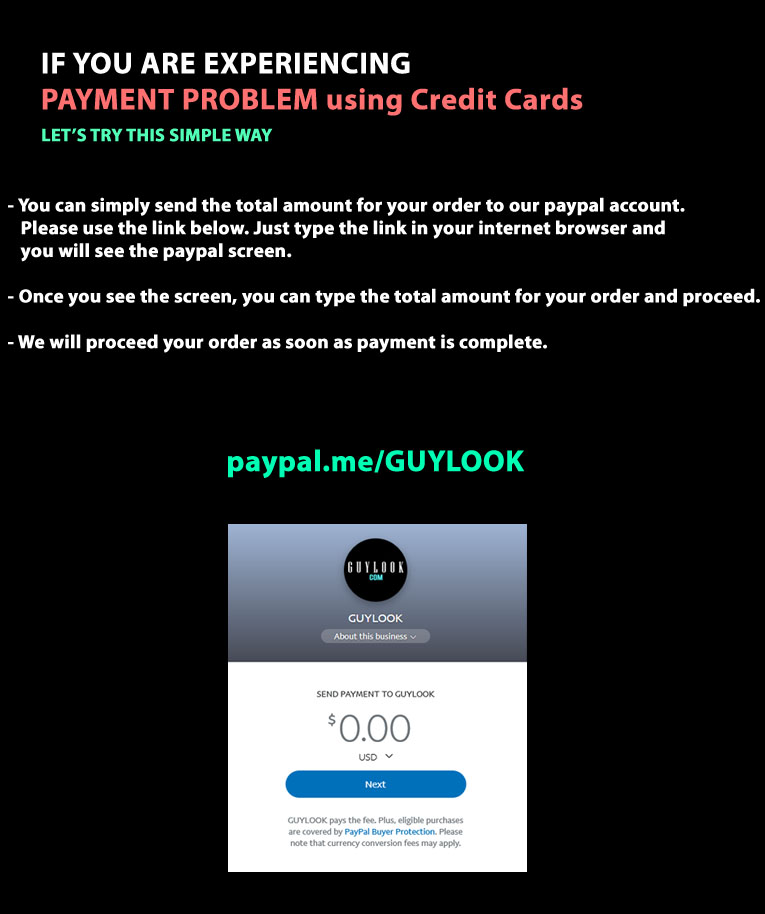 - GUYLOOK PAYPAL LINK: paypal.me/GUYLOOK
- IF YOU KEEP EXPERIENCING PROBLEMS: Please contact us at guylook_pal@hotmail.com for assistance.
- YOU MAY READ GUIDELINES BELOW TO FIND OUT POSSIBLE REASONS FOR THE DECLINED PAYMENTS.
IF PAYPAL KEEP REJECTING YOUR CREDIT CARD/DEBIT CARD WHEN CHECKOUT
You might at times face issues while making payments when checkout using credit card/debit card/Paypal. Following is a list that describes some common error messages returned by PayPal and their most common underlying reasons. Please follow this guideline & if you still experience payment problems, you may print screen your exact error message that you receive on paypal during checkout and contact us for asssitance for effective support.
MESSAGE TYPE 1:
The card you entered cannot be used for this payment.
Please enter a different credit or debit card number
The rejection message described by your buyer is a general PayPal message which could indicate a number of issues. Some common reasons why PayPal could reject cards and display this message could be:
1. Credit Card Is Linked or Associated with a PayPal Account.
If you're using a credit card that's linked or assigned to a PayPal account, try login to PayPal during payment process. You can change the source of fund to make the payment after logged in to use credit card instead of PayPal balance.
2. Credit Card Is Previously Used in PayPal Account or Assigned in Closed PayPal Account
PayPal remembers a credit card details even when it's already been removed from the account. The information also been remembered even if PayPal account which linked to the credit card is closed and deleted. In this case, try another credit card, or assigned the credit card to a PayPal account, and pay with account logged in.

3. PayPal Limit on Non-Member Credit Card Usage
According to PayPal source, there is a limit based on the number of times, the amount of the transactions, the type of merchandise being sold that a credit card can be used within the system without having to verify ownership by opening an account. The restriction is for security and fraud protection reasons. There is no workaround to this limitation, but you should be able to use another credit card. If there is problem, try using another email address. Else, register an PayPal account.
4. Credit Card or Email Address Raises Flag in the Transaction
Closely link to reasons above, where some part of the transaction raises flag on the server that stop the payment. Two possible flags are on credit card or email address. Try changing either credit card or e-mail address or both when attempting to pay again.
5. Your browser is not accepting cookies. You should clear any existing cookies and try again.
6. Random Paypl Review
Paypal may randomly review credit/debit card payments if there has been any suspicious activity related to the credit card/debit card or IP address that you are using. you can delete your cookes, reboot your computer and try sometime later or use other computer or a mobile.
MESSAGE TYPE 2:
We can't process your payment right now, so please try again later. We're
sorry for the inconvenience.
The main reasons for this particular error according to PayPal technical support:

When a customer does not have paypal account, a credit card has a total lifetime transaction limit of approximately $4000. This value is the total of all payments ever made through the PayPal Guest Checkout Experience on that credit card. Even if the total is below $4000, they can only use that card 15 times as a guest. If the card is flagged by PayPal, an account (username/password) will be required for security reasons. In either case, your attendee/buyer will need to sign up for a PayPal account in order to use that credit card. If your customer does have an existing PayPal account and the credit card or email address is recognized, your client MUST log in to PayPal first for security reasons.