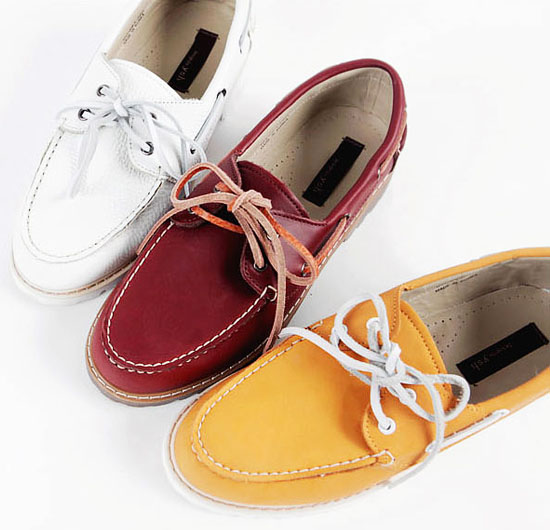 CLASSIC YET MODERN TWO EYE LEATHER BOAT SHOES-Shoes 13
Classic meets function. Step into a new generation two-eye boat shoes for a modern day to take on a classic item.
The remarkable feature of this modern elegance is the sturdy welt construction and slip-resistant outsole that always ensure a wearer's comfort and safety in a top shape.

Constructed from top quality cowhide that is soft, smooth to the touch and extra durable, it has a trim, modern cut with a sentimental European appearance in shape and handsomely exhibits it's classic appearance.

Contrast stitches and gently rounded toe smoothes it's overall impression and it's higher heels gives a wearer an extra height and confidence. Finished with non-slip outstole.

Wearable throughout the year and it's classic look and robust cowhide construction makes it last for years to come.

You could certainly take this pair of shoes on board with shorts and a basic polo in summer, but their edgy side really comes out when paired with more formal pieces in colder months.
This is a beautiful men's stylish footwear that is timeless and essential for an urban chic styling. Don't hesitate adding a touch of sophistication and classic elegance to your wardrobe.